PROJECT Women and Girl's EMPOWER
ABOUT "PROJECT WOMEN AND GIRL'S EMPOWER"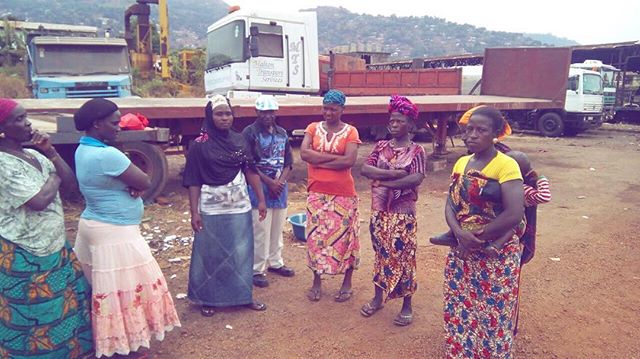 These are backyard farming women. They live and work around the eastern part of Freetown. Their occupation is farming. Through gardening and selling the products of their farming, they are able to generate income to feed their families, children's school fees and sustain their families. CPCSSL team members/volunteers alongside our founder Mr. Joseph Gbao held a meet and greet with the chief, women and community liaison officers at St. Joseph Vocational Training Center!
THE FUTURE IS WOMAN!...
The influence a women has in society is invaluable. Studies have shown that in countries where women are oppressed, there is increased violence and higher rates of national poverty. In the words of Dr. Helene Gayle "no matter how we measure it, women and girls bear the brunt of poverty. But it is also clear that women are also our greatest hope for ending poverty." Sierra Leone is rated 180 out of 187 countries in the world with more than 70% of its population living on less than a $1 a day. Poverty and gender inequality goes hand in hand. Women and children suffer the most from the effects of poverty. CPCSSL is a leading advocate in empowering women and young girls, giving them opportunities to make a tangible and objective impact in their local communities.
Here at CPCSSL we are so elated to present "Project Empower" as we round up "Project learn". This is our initiative to educate children and provide them the resources to develop, grow and excel in their education. We discovered that women in these communities play a very important role in lives of these children. Therefore we created opportunities for women to also reach their full potential and empower them to become successful entrepreneurs. That is why we are so elated to help these backyard farmers, by providing them the necessary tools to become successful in their trade. Although our primary goal is to aid these farmers, we are also investing in women from all walks of life and occupation.
"Project Empower" is a project that holds a lot of promise and we are very passionate about it. At CPCSSL we believe in the strength of the human spirit and that no matter where you find yourself in life, you can always begin again and change the course of your life. That is why we are so very proud of these women and are willing to invest in them. In one of the videos shown above we have partnered with Saint Joseph to teach computer literacy to commercial sex workers and Ebola survivors. The current challenge we are facing now is that the computers are not as effective functionally, creating a need for better working computers and accessories. Also the ladies in this catering class are all Ebola survivor, enrolled in this school to for training develop and acquire new skills. Our partnership with saint Joseph is geared towards creating safe environments for women to grow, gain news skills and empower themselves, their families and their communities.
This is the location where the backyard farmers work. Their average work day is 12 hours under the sun. In the photo you can see a woman with a child on her back. Most of the women with children do not have baby sitters or local child care facilities and have to carry their children to the farm. They mostly carry their children on their back while working. The resilience of these mothers as inspiring as it is, predisposes them to other health challenges like athritis. "Project Empower"
In to commemorate women empowerment month in the month of March, on March 3rd our team made a special visit to Saint Joseph's Vocational Training Center. The women in this catering class are all Ebola survivors. These classes are used as therapeutic recreational programs to aid in the healing process. Saint Joseph has become a safe outlet for these women to express themselves from promoting healing from pain and hurt resulting from the traumatic experience of the after effects of conflict.